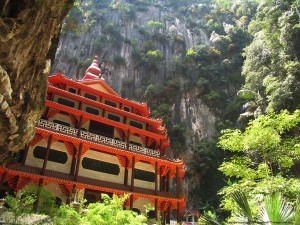 Perak is a state located at the northern part of Kuala Lumpur. The capital city of Perak state is Ipoh, in which there are several express buses connecting the town of Ipoh to other places in Perak and the whole of Malaysia. The famous express bus company such as
Sri Maju Express
and
Yoyo Express
(Airport shuttle bus) are all originated from Ipoh.
Nowadays tourists or Malaysian from other parts of Malaysia visit Ipoh for the famous Ipoh food and the tourist hotspots like Gua Tempurung and Lost World Tambun. For details introduction of Ipoh food and tourist hotspots, please visit JourneyIpoh.com
Aman Jaya Bus Terminal – This is the main bus terminal in the town of Ipoh. Several express bus companies operate from here to serve the express bus service from Ipoh to KL, bus from Ipoh to Singapore and bus to Penang. Among the favourite for the locals are Sri Maju Express and Yoyo Express.


Remarks: Relocation express bus services from Medan Gopeng Bus Terminal to Aman Jaya Bus Terminal effective from Apr 2013.

Medan Gopeng Bus Terminal – Closure of Medan Gopeng Bus Terminal.