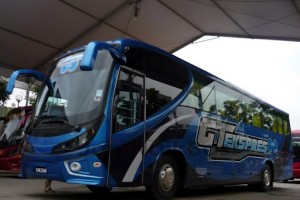 GT Express is a new player, joining the established player Unititi Express, Kurnia Bistari, providing the service from Kuala Lumpur to Cameron Highland and from Cameron Highland to Kuala Lumpur. GT Express coaches are new and with spacious seat , especially for leg room spacing where leg can be straighten, and adjustable. The foot resting is also specially designed to give a better and comfortable support.
GT Express counter in Cameron Highland is conveniently located at Tanah Rata Bus Terminal. Tourists or passengers who alight at Tanah Rata Bus Terminal can easily connect to other places like Brinchang, resorts and hotels by taxi. As for GT Express Kuala Lumpur counter, it is at Counter 45 Pudu Sentral in Kuala Lumpur city centre
Tourists or passengers who like to purchase ticket in advance could book online at BusOnlineTicket. Ticket is usually available for booking one month in advance.
| | | |
| --- | --- | --- |
| Route | Time | Price |
| Cameron Highland to Kuala Lumpur | 0830, 0930, 1230, 1430, 1730 | RM35 |
| Cameron Highland to Penang | 0800, 1430 | RM39 |
| | | |
| --- | --- | --- |
| Route | Timing | Price |
| Kuala Lumpur to Bidor | 0830, 0930, 1230, 1430, 1730 | RM17.00 |
| Kuala Lumpur to Cameron Highland | 0830, 0930, 1230, 1430, 1730 | RM35.00 |
| Kuala Lumpur to Tapah | 0830, 0930, 1230, 1430, 1730 | RM17.00 |