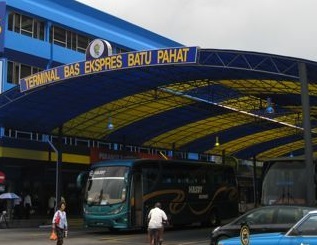 Batu Pahat bus terminal is located at the old town area of Batu Pahat. The bus station was without the shelter many years ago. Shelter was then built in recent years for better arriving and boarding service in Batu Pahat bus terminal.
KKKL headquarter and bus depot are at Batu Pahat. Thus KKKL is the largest bus operator in Batu Pahat bus terminal, in term of number of bus schedules provided. Besides KKKL, S&S International, Causeway Link, Transnasional and Airport Coach also offer bus services departing from Batu Pahat bus terminal
Batu Pahat bus station is relatively small as compared to Johor Bahru Larkin bus station because of limited route services. Three of the major bus routes in this station are Batu Pahat to KL, Batu Pahat to Johor Bahru and Batu Pahat to KLIA/KLIA2.
| | | |
| --- | --- | --- |
| Route | Time | Price |
| Batu Pahat to Kuala Lumpur | 0800, 0830, 0900, 1000, 1230, 1330, 1430, 1530, 1630, 1730, 1830, 2000 | RM23 |
| Batu Pahat to Johor Bahru | 0730, 0830, 0930, 1030, 1130, 1230, 1430, 1530, 1630, 1730, 1830, 1900 | RM12 |
| | | |
| --- | --- | --- |
| Route | Time | Price |
| Batu Pahat to Johor Bahru | 0700, 0800, 0900, 1000, 1100, 1300, 1400, 1500, 1600, 1700, 1800, 1930 | RM9 |
| | | |
| --- | --- | --- |
| Route | Time | Price |
| Batu Pahat to Kuala Lumpur | 0700, 0750, 1130, 1500, 1600, 1730 | RM25 |
| Batu Pahat to Johor Bahru | 0700, 0800, 0900, 1000, 1100, 1300, 1400, 1500, 1600, 1700, 1800, 1930 | RM12.9 |
| | | |
| --- | --- | --- |
| Route | Time | Price |
| Batu Pahat to Kuala Lumpur | 0900, 1430, 2000 | RM24.8 |
| | | |
| --- | --- | --- |
| Route | Time | Price |
| Batu Pahat to KLIA/KLIA2 | 0700, 0930, 1400, 1630, 1900, 2230 | RM50 |