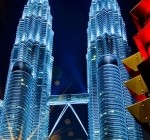 Kuala Lumpur, being the capital city of Malaysia, has the most number of bus terminals in Malaysia. Last time, Pudu Sentral (or Pudu Raya) is the main and the only bus terminal in Kuala Lumpur and it was used to serve for coaches departing to and arriving from all parts of Peninsular Malaysia. However, with growing number of commuters as well as express bus companies, they have caused heavy traffic in Pudu Sentral area. To ease the traffic congestion in Pudu Sentral area, the authority has built more bus terminals in Kuala Lumpur, namely Terminal Bersepadu Selatan, Duta Bus Terminal and Pekeliling Bus Terminal. These 4 main bus terminals, each serves customers going to the North, South and East coast of Malaysia.
Bus Terminals in Kuala Lumpur
Other Departure Points for Bus from Kuala Lumpur
Besides these 4 bus terminals, there are few bus companies that provide the bus service with departure points which are not from the 4 bus terminals. These departures include:
Bangsar at No. 48 Jalan Kemuja, office area and
Lot 1B Shoplex at Mont Kiara, expatriate gathered neighbourhood area.
KL Other Location – Other locations which mainly serve express bus service from KL to Singapore
Popular Bus Routes from Kuala Lumpur
Kuala Lumpur being the largest city and having the most bus terminals in Malaysia, you can find almost all bus services to every part of Malaysia. The most popular service routes are coach from Kuala lumpur to Singapore, coach from Kuala Lumpur to Melaka, and coach from Kuala Lumpur to Penang. Online booking is available for most Kuala Lumpur departure routes.
Airport Shuttle Service from Kuala Lumpur to KLIA or KLIA2
For airport shuttle bus service, you either go to Pudu Sentral to take Star Shuttle or go to KL Sentral to take airport buses like Skybus and Aerobus. Please take note, only Star Shuttle is providing shuttle bus service from KL to KLIA.
From Pudu Sentral to KLIA and KLIA2 (as known as LCCT)
Star Shuttle
First bus to go both KLIA and KLIA2 is at 3:00 AM
Last bus to go both KLIA and KLIA2 is at 11:59 PM
Frequency is 30-45 minutes per bus
From KL Sentral to KLIA2
1) Skybus
First bus to go KLIA2 is at 3:00 AM
Last bus to go KLIA2 is at 10:00 PM
Frequency is 30 minutes per bus
2) Aerobus
First bus to go KLIA2 is at 2:45 AM
Last bus to go KLIA2 is at 10:45 PM
Frequency is 30 minutes per bus