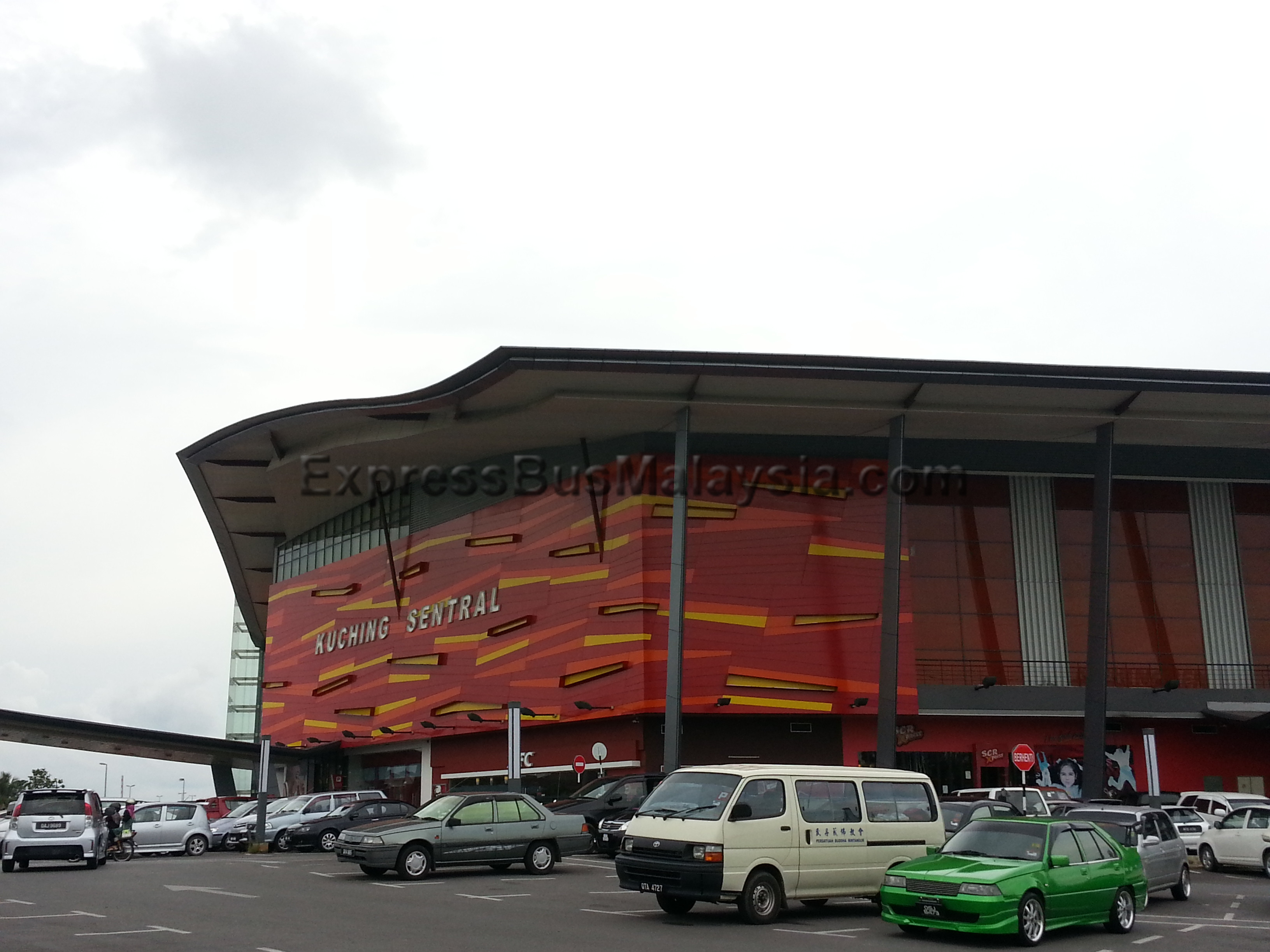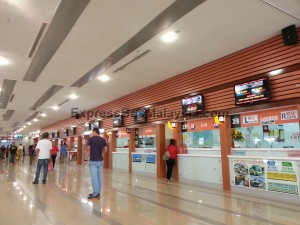 Kuching Sentral or Kuching Bus Terminal is East Malaysia's first air-conditioned and fully-integrated three-storey regional bus terminal, has been servicing passengers in Sarawak and West Kalimantan since early 2012. Kuching Sentral is strategically located in the south of Kuching city and it is about 5 minutes away from the Kuching International Airport and 20 minutes away from Kuching City Centre.
Kuching Sentral is the transportation hub in Sarawak which serves the arrival and departure for long distance express buses, regional buses and cross border express bus. Examples of long distance servicing routes includes Kuching to Miri, Kuching to Bintulu, Kuching to Sibu, as well as Kuching to Pontianak (City in West Kalimantan). As for regional servicing routes, it includes Kuching nearby cities like Kuching to Lundu (Lundu is the gateway for the Gunung Gading National Park and Tanjung Datu National Park) and Kuching to Sri Aman. The only cross border route provided in Kuching Sentral is Kuching to Pontianak. Because of tourist's interest at the border of Sarawak and Kalimantan and daily groceries activities of locals staying in Pontianak, Kuching to Pontianak and Pontianak to Kuching are the popular routes for locals as well as tourists. Online Booking is available for some bus operators like Bintang Jaya, Bus Asia and Asia Star. Ticket for online booking is about 20% cheaper than counter price
Apart from the transportation services, Kuching Sentral is equipped with retail stores, hypermarket, food court, fast food chain and restaurants. The HGL Hypermarket in Kuching Sentral is one of the largest hypermarket in Kuching because of the high traffic of people coming from Pontianak to do daily groceries in Kuching Sentral.
VFG (Vital Focus Transportation Sdn Bhd) Counter 4 and 5

| | | |
| --- | --- | --- |
| Route | Timing | Price |
| Kuching to Mukah | 0900 | RM65 |
| Kuching to Pontianak | 0730, 1100 | RM60 |
| Kuching to Sibu | 1030 | RM50 |
| Kuching to Bintulu | 0930, 1030 | RM70 |
| Kuching to Miri | 0630, 0830, 1200, 1430, 1630, 1830, 2000, 2100 | RM80 |
Sungai Merah Express Counter 6
| | | |
| --- | --- | --- |
| Route | Timing | Price |
| Kuching to Sarikei | 1315, 1630, 2200 | RM40 |
| Kuching to Sibu | 1315, 1630, 2200 | RM50 |
| Kuching to Bintulu | 1315, 1630, 2200 | RM70 |
| Kuching to Miri | 1315, 1630, 2200 | RM80 |
Bus Asia / Asia Star (DD, 27 seater) Counter 7 and 17


| | | |
| --- | --- | --- |
| Route | Timing | Price |
| Kuching to Mukah | 2215 | RM65 |
| Kuching to Sarikei | 0730, 1000, 1130, 1400, 1530, 1700, 1930, 2030, 2200, 2215 | RM40 |
| Kuching to Sibu | 0730, 1000, 1130, 1400, 1530, 1700, 1930, 2030, 2200, 2215 | RM50 |
| Kuching to Bintulu | 0730, 1000, 1130, 1400, 1530, 1700, 1930, 2030, 2100 (Luxury), 2200 | RM70 |
| Kuching to Miri | 0730, 1000, 1130, 1400, 1530, 1700, 1930, 2030, 2100 (Luxury), 2200 | RM80 |
| Kuching to Pontianak | 0715 | RM60 |
| | | |
| --- | --- | --- |
| Route | Timing | Price |
| Kuching to Pontianak | 0730, 1030 | RM60 |
| | | |
| --- | --- | --- |
| Route | Timing | Price |
| Kuching to Sibu | 0730, 0930, 1630, 2100 | RM50 |
| Kuching to Bintulu | 0730, 0930, 1630, 2100 | RM70 |
| Kuching to Miri | 0730, 0930, 1630, 2100 | RM80 |
| | | |
| --- | --- | --- |
| Route | Timing | Price |
| Kuching to Sri Aman | 0900, 1500 | RM25 |
| Kuching to Sarikei | 1500 | RM40 |
| Kuching to Sibu | 0900, 1500 | RM50 |
| Kuching to Bintulu | 0900, 1500 | RM70 |
| | | |
| --- | --- | --- |
| Route | Timing | Price |
| Kuching to Pontianak | 0800, 1100, 1300 | RM60 |
| | | |
| --- | --- | --- |
| Route | Timing | Price |
| Kuching to Pontianak | 0800, 1100, 1300 | RM60 |
Lanang Express / Rejang Express Counter 13
| | | |
| --- | --- | --- |
| Route | Timing | Price |
| Kuching to Sarikei | 0930, 2130 | RM40 |
| Kuching to Sibu | 0930, 2130 | RM50 |
| Kuching to Bintulu | 0930, 2130 | RM70 |
| Kuching to Miri | 0930, 2130 | RM80 |
Bintang Jaya Express Counter 14 and 15


| | | |
| --- | --- | --- |
| Route | Timing | Price |
| Kuching to Pontianak | 0730, 1030 | RM60 |
| Kuching to Serian | 0830, 1000, 1300, 1730, 2200 | RM10 |
| Kuching to Sri Aman | 0830, 1000, 1300, 1730, 2200 | RM25 |
| Kuching to Sarikei | 0830, 1000, 1300, 1730, 2200 | RM40 |
| Kuching to Sibu | 0830, 1000, 1300, 1730, 2200 | RM50 |
| Kuching to Bintulu | 0830, 1000, 1730 | RM70 |
| Kuching to Miri | 1000, 1730 | RM80 |
| | | |
| --- | --- | --- |
| Route | Timing | Price |
| Kuching to Sarikei | 2030 | RM40 |
| Kuching to Sibu | 2030 | RM50 |
| Kuching to Bintulu | 2030 | RM70 |
| Kuching to Miri | 2030 | RM80 |
| | | |
| --- | --- | --- |
| Route | Timing | Price |
| Kuching to Pontianak | 0700, 0930, 1100 | RM60 |
| Kuching to Mukah | 1000, 2200 | RM65 |
| Kuching to Sibu | 1000, 1630, 2100, 2200 | RM50 |
| Kuching to Bintulu | 1630, 2100 | RM70 |
| Kuching to Miri | 1630, 2100 | RM80 |
| | | |
| --- | --- | --- |
| Route | Timing | Price |
| Kuching to Sibu | 2000 | RM50 |
| Kuching to Bintulu | 2000 | RM70 |
| Kuching to Miri | 2000 | RM80 |
Sarawak Transport Co Bhd Counter 20
| | | |
| --- | --- | --- |
| Route | Timing | Price |
| Kuching to Sri Aman | 0815, 1000, 1300, 1515, 1915 | RM25 |
| Kuching to Betong | 0815, 1300 | RM28 |
| Kuching to Lundu | 0815, 1100, 1400, 1600 | RM12 |
| Kuching to Saratok | 0815 | RM30 |