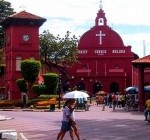 Melaka (also known as Malacca), the historic town of Malaysia has been named as the UNESCO site in the year of 2008. The city is one of the most famous tourist attractions in Malaysia and Melaka welcomes millions of tourist every year.
Despite being the popular tourist destinations, Melaka has no airport or train service. Therefore express bus becomes the most popular public transport for visitors coming to Melaka. Usually, tourists would come to Melaka from the cities like Singapore and Kuala Lumpur because these cities are the nearest international transportation hub which provides connections to Melaka. Therefore, bus from Singapore to Melaka, bus from Kuala Lumpur to Melaka and vice versa are the popular routes among the tourists.
Bus Terminal in Melaka
The city only bus terminal, Melaka Sentral is a well-designed bus hub serving millions of commuters each year. There are more than 20 bus operators serving express bus service in Melaka Sentral bus terminal. These bus operators provide departure service and arrival service to and from cities like Singapore, Johor Bahru, Kuala Lumpur and other cities.
Please refer to following bus terminal for the coach from Melaka
Melaka Sentral Bus Terminal – The only bus terminal in the city of Melaka. The terminal has few famous bus operators including Delima Express (long serving bus operators going to KL, Singapore from Melaka) and KKKL Express.