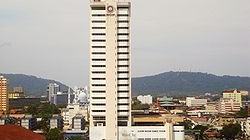 Pahang is the third largest state in Malaysia. It is located in the east coast of Peninsular Malaysia. Some of the famous mountainous regions in Malaysia including Genting Highlands, Cameron Highlands are all located in the state of Pahang. Pahang also host the only National Park in Malaysia (Kuala Tahan Taman Negara).
Popular Coach from Pahang
Few popular tourist-rich bus services in Pahang include
1) Bus from Cameron Highlands to KL
2) Bus from Genting Highlands to Singapore
3) Bus from Kuantan to KL
4) Bus from Taman Negara to KL
Bus Terminals in Pahang
Please refer to the following bus terminals for the coach from Pahang:
These bus terminals do not just serve the departure of coach from Pahang, they also serve as the arrival point for coach to Pahang.