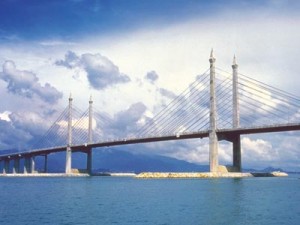 Pulau Pinang (Penang Island) 
is a state that made up by 2 portions, Penang Island and Butterworth. The two city is separated by the straits of Malacca and is linked together via the famous Penang bridge with total length of about 13.5 KM.
Penang is one of the most famous tourist attractions for many visitors coming to Malaysia, thanks to it's status as the UNESCO site in Malaysia. Because of this attraction, access to the town can be done easily via public transport. There are almost half-hourly express bus service from Kuala Lumpur to Penang, and also from other places to Penang like Singapore, Malacca, Alor Setar and many more.
Sungai Nibong Bus Terminal provides bus from Penang to KL at the highest frequency.
Last time in Penang, all buses used to depart from Prangin Mall. It was the hub for long distance express bus and local domestic city bus. However, since 2005, almost all long distance express buses were moved to new bus terminal Sungai Nibong Bus Terminal. But even until today, there are still some express bus companies operating from Komtar, Georgetown. These buses would depart from Komtar, and then proceed to Sungai Nibong bus terminal before heading to destination. This is especially convenient for tourist who usually hangs around in Georgetown area.
Please refer to below bus terminal for information of coach from Penang
Butterworth Jetty Bus Terminal – This is a temporary bus terminal set-up near the Butterworth Jetty and Penang Bridge. Many buses going to the northern part of Malaysia (e.g. Sungai Petani, Hatyai, Alor Setar) will make a stop at this bus terminal
Sungai Nibong Bus Terminal – This is the main bus terminal in the island of Penang. Many local / tourist take express bus from KL to Penang and arrrived at this terminal.