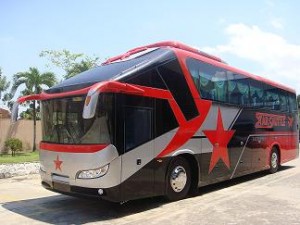 Star Shuttle has the objective to provide a direct, non-stop shuttle service to airport KLIA and KLIA2. Starshuttle is famous with its quality service, affordable, comfortable ride and reasonable price to the passengers.
Other than shuttle service from KLIA/KLIA2 to KL, Star Shuttle also provides following long haul bus services
1) bus from KLIA/KLIA2 to Ipoh,
2) bus from KLIA/KLIA2 to Sitiawan, and
3) bus from KLIA/KLIA2 to Teluk Intan
Please note that returned services are provided by Star Shuttle as well.
| | | |
| --- | --- | --- |
| Route | Timing | Price |
| Kuala Lumpur to KLIA/ KLIA2 | 0414, 0445, 0545, 0630, 0700, 0745, 0830, 0915, 1000, 1045, 1115, 1145, 1215, 1245, 1315, 1345, 1415, 1445, 1515, 1545, 1615, 1700, 1745, 1830, 1915, 2015, 2115, 2215, 2315 | RM12.00 |
| | | |
| --- | --- | --- |
| Route | Time | Price |
| Ipoh to KLIA2 | 0100, 0230, 0430, 0730, 0930, 1330, 1700, 2100, 2330 | RM42 |
| Ipoh to KLIA | 0100, 0230, 0430, 0730, 0930, 1330, 1700, 2100, 2330 | RM42 |
| Ipoh to Kuala Lumpur | 1000, 2115 | RM25 |
| Ipoh to Johor Bahru | 1000, 2115 | RM55 |
| Ipoh to Singapore | 1000, 2115 | RM55 |
| | | |
| --- | --- | --- |
| Route | Time | Price |
| KLIA to Puduraya – Batu 3 | 0015, 0045, 0115, 0145, 0215, 0245, 0700, 0800, 0915, 1015, 1045, 1115, 1145, 1215, 1245, 1315, 1345, 1415, 1445, 1515, 1545, 1615, 1645, 1715, 1745, 1815, 1845, 1915, 1945, 2015, 2045, 2115, 2145, 2215, 2245, 2315, 2345 | RM10.00 |
| KLIA to Teluk Intan | 0200, 0900, 1230, 1500, 1730, 2030 | RM45.00 |
| KLIA to Sitiawan | 0200, 0900, 1230, 1500, 1730, 2030 | RM45.00 |
| KLIA to Ipoh | 0200, 0900, 1230, 1500, 1730, 2030 | RM42.00 |
| | | |
| --- | --- | --- |
| Route | Time | Price |
| KLIA2/KLIA to Puduraya to Batu 3 | 0015, 0045, 0115, 0145, 0215, 0245, 0700, 0800, 0915, 1015, 1045, 1115, 1145, 1215, 1245, 1315, 1345, 1415, 1445, 1515, 1545, 1615, 1645, 1715, 1745, 1815, 1845, 1915, 1945, 2015, 2045, 2115, 2145, 2215, 2245, 2315, 2345, | RM10.00 |
| KLIA2 to Teluk Intan | 0900, 1230, 1500, 1730, 2030, 0200 | RM45.00 |
| KLIA2 to Sitiawan | 0900, 1230, 1500, 1730, 2030, 0200 | RM45.00 |
| KLIA2 to Ipoh | 0900, 1230, 1500, 1730, 2030, 0200 | RM42.00 |